The fund-raising initiatives held by Bina Cita Utama are fun and educational ways for  students and staff to engage in important social causes, both large and small.
The development of these innovative projects help us drive positive impacts, one fun day at a time. 
PROTECT THE FUTURE:
HElp protect borneo's rainforests and orangutans
On Tuesday the 25th of April, in honour of the international commemoration of Earth Day, Bina Cita Utama School organized a fundraising event. The purpose of the event was to raise community and student awareness about the treasures of our natural environment and our shared responsibility in protecting it.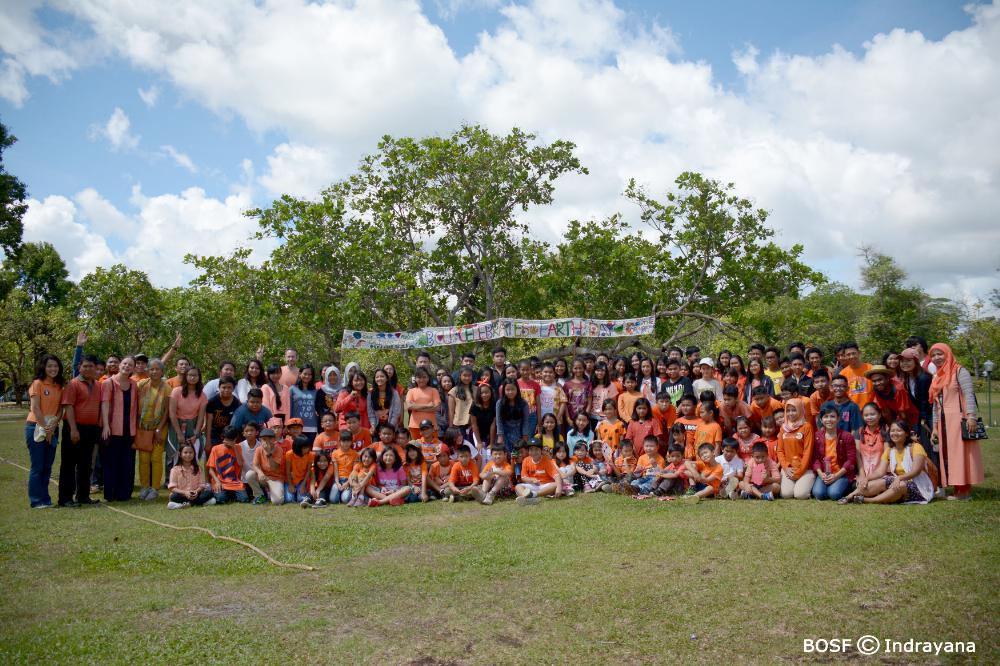 All BCU students, teachers, staff and Rungan Sari residents were invited to participate in the event. The program was prepared with care in collaboration with the Borneo Orangutan Survival Foundation (BOSF). It featured educational activities, students' works and art projects, educational and community building games, a unique opportunity to express concern and affect positive change by way of simple participation, as well as donations to BOSF, a prominent protection organization in our region. 
The event promised to bring together our community towards a common goal in a fun and educationally rich environment. BCU thereby manifested its commitment in human and environmental values – and enabled us and our children to positively impact our society. 
Check out the list of activities, entertainment and contribution opportunities that made our Earth Day bright and meaningful! (Click on pictures to enlarge.)
Support the orangutans: Dress up in orange! The 3 best dressed students or teachers win a fun prize!
Fill in the guest book made by our students with their artwork! Leave a message for our Earth, our Forests and Orangutans. 
Watch the PPT Presentation by our grade 11 & 12 students. 
Watch footage of baby orangutan Meryl, 'adopted' by BCU for a year.
'Are you smarter than an orangutan?'
Play an Interactive Quiz to win a unique prize: A 30 minute visit to Nyaru Menteng to watch baby orangutans come back from Forest School. 
Arrange the scattered pieces of animal puzzles.
Do some coloring to create the fullest and brightest images of our fantastic forests. 
Recognize BOSF's orangutan ambassadors by finding the matching photos. 
Get your face painted for the day.
Have your picture taken inside the picture-board of Mommy and Baby orangutan.
Be the last one standing! Find a chair when the music stops.
Show your talent, sing your favourite songs!
Race with your friend's leg tied to yours!
Race your friends on your hands!
Pull the rope and be the strongest team on the campus!
Race on all fours like an orangutan on the ground!
Show your support and buy a fun gift for yourself, your parents or a friend!
Buy a Rp. 3,000 Lottery ticket for the chance to win an awesome orangutan t-shirt!
contributions & donations
Bring your coins and put them in the donation boxes decorated by our students to support orangutans and their forests.
Make a donation to 'adopt' a baby orangutan. 
e.g. Enrichment supplies like hammocks, rattan baskets or storage boxes. Supplies for BOSF's Nursery and Forest School like blankets, used stuffed animals/plushies, lanjung or laundry baskets, and medication. 
Make a donation on behalf of yourself, a family member or a friend to become an Orangutan Life Saver. 
No Palm, no cry - snacks for rp. 3,000
Buy delicious palm oil-free cocoa balls from the orangutan puppet made by our students – and leave a message of support. 
Buy delicious palm oil-free cocoa balls from the orangutan puppet made by our students – and leave a message of support. 
Bring your own palm oil-free snacks and cakes for sale in support of orangutans and the forests. 
Buy delicious Orange for Orangutan drinks.